Birchbox was the first subscription service I ever signed up for and now it's quite possibly my favorite! I just love receiving this adorable little box every month and seeing what's inside. Some months are better than others, but I tend to get a ton of use out of the products. And even if it's not my favorite product, it's usually handy enough to use for my travels! Check out my June Birchbox review below and share what you think in the comments!
If you aren't familiar with birchbox, it's a $10/month subscription to monthly deliveries of beauty and skincare samples. And don't forget… they offer boxes for both men and women! It's truly a mini treat to yourself once a month and it's a fabulous, inexpensive way to get introduced to new brands and products. As an added bonus, birchbox has an amazing rewards program. You get points for each monthly sample you review and each dollar you spend in their shop. 100 points= $10, and those points add up fast!
Check out my June Birchbox Review: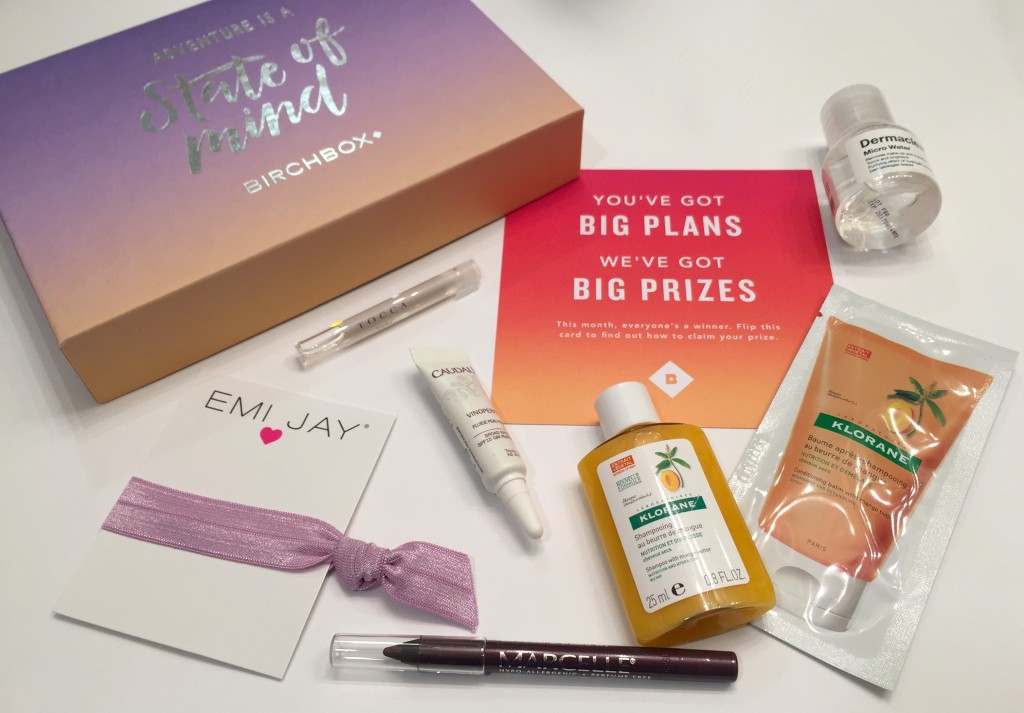 Caudalie Vinoperfect Day Perfecting Fluid SPF 15
Dr. Jart+ Dermaclear™ Micro Water
Klorane Shampoo with Mango Butter
Klorane Conditioning Balm with Mango Butter
Marcelle Mini Waterproof Eyeliner Travel Kit
TOCCA Eau de Parfum, Isabel
Emi Jay Solid Hair Tie 5-Pack
---
So far I've loved all Caudalie products I've received over the years. This Caudalie Vinoperfect Day Perfecting Fluid SPF 15 is no exception! It is super lightweight and gives me a ton of moisture without leaving my face greasy. I don't wear foundation so I love that it's slightly tinted. But beware! Although it evens out my skin tone, it doesn't add much coverage. It's doesn't solve my everyday needs, but the SPF and sheer formula make it a great option for summer!
A girl can never have too much makeup remover! I have been bouncing back and forth from makeup removers for awhile. And I found a new one for my collection! Dr. Jart+ Dermaclear™ Micro Water is a cleansing water that brightens skin. The great thing about this cleanser is how well it works! I know that sounds simple, but a lot of cleansers tend to smear around the makeup on my face and have to be rinsed after. This micro water is a miracle! It not only completely cleans the skin in one swipe, it doesn't even need to be rinsed after! I will for sure be investing in this makeup remover with my birchbox points!
Klorane Shampoo and Conditioning Balm with Mango Butter is up next! This shampoo and conditioner combo is amazing! I love the delicious mango smell. As I'm washing my hair it almost tricks me into thinking I'm actually on a beach eating a mango! It's the perfect shampoo scent for summer. The sample was pretty small so I didn't notice any lasting effects, but if you want to switch up your normal shower routine, this mango shampoo is a great option!
I got the Mulberry Marcelle Mini Waterproof Eyeliner in my birchbox. I love trying new eyeliners and colors. This eyeliner went on super smooth and was easy to apply. Although I love the deep mulberry color, it took several coats to make much of an impact. But once I got it applied, it lasted all day! It's super waterproof and smudge-free! And the best part about it? It came off so easily when I used my new micro water face cleanser!
Next up, I got a small sample of TOCCA Eau de Parfum. This perfume was inspired by a chic city girl from Barcelona. At first sniff I really loved it, it is full of floral rose notes. But the more I smelled it, the less I actually like it. The scent is really strong and after awhile it started to smell a little matronly to me and all of the sudden I felt like an old lady who put one too many sprays of perfume on! This is not a perfume I would recommend for younger women.
Lastly I was surprised with the Emi Jay Solid Hair Tie. I love knotted hair ties. They are always fun colors and prints and never slip on my short hair! This lavender hair tie is great for summer, I've been in buns ever since receiving it!
---
And that's a wrap for this month's beauty samples! Have you heard of any of these brands or tried any of these products before? Tell me about them in the comments below!
Craving more beauty finds? Check out last month's post, May Birchbox Review, or start getting your own birchbox delivered right to your door!