Birchbox was the first subscription service I ever signed up for and now it's quite possibly my favorite! I just love receiving this adorable little box every month and seeing what's inside. Some months are better than others, but I tend to get a ton of use out of the products. And even if it's not my favorite product, it's usually handy enough to use for my travels! Check out my May Birchbox Review below and share what you think in the comments!
If you aren't familiar with birchbox, it's a $10/month subscription to monthly deliveries of beauty and skincare samples. And don't forget… they offer boxes for both men and women! It's truly a mini treat to yourself once a month and it's a fabulous, inexpensive way to get introduced to new brands and products. As an added bonus, birchbox has an amazing rewards program. You get points for each monthly sample you review and each dollar you spend in their shop. 100 points= $10, and those points add up fast!
Check out my May Birchbox Review: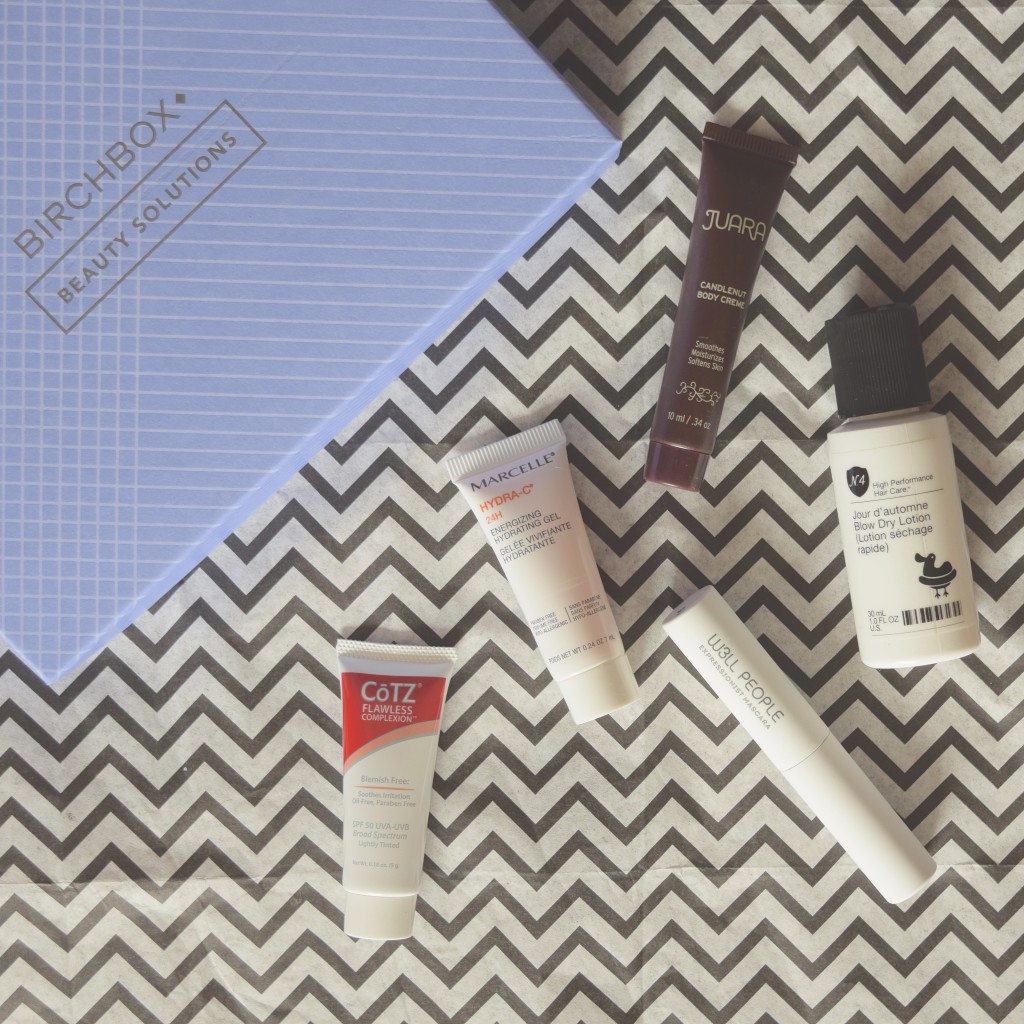 Number 4™ Blow Dry Lotion
JUARA Candlenut Body Creme
W3LL PEOPLE The Expressionist Mascara
Marcelle Hydra-C 24H Energizing Hydrating Gel
CoTZ® Flawless Complexion SPF 50
---
Have you tried any of Number 4's hair care products? I've tried quite a few that have been sent my way in past birchboxes. In my latest box was the Number 4™ Blow Dry Lotion. I was really excited to see this guy since I have uber long hair that needs serious protection from the heat I subject it to. It is not only supposed to protect your hair, but also act as a leave-in treatment to condition it as well. I didn't notice a decrease in the dry time like many of the reviewers found, but I have pretty long, thin hair so it doesn't take me a ton of time to dry my hair in the first place. However, I did notice it left my hair looking healthy and shiny, but unfortunately it didn't feel the same way. It seemed to leave a residue on my hair that felt a little sticky and gave my hair too much texture for how thin it is. I think this product could be better suited for girls with thicker, shorter hair.
Next to be reviewed is the JUARA Candlenut Body Creme. I can never pass up a great body creme! This cream not only smells amazing (think light and tropical!), but it's also super hydrating. A little goes a long way and leaves the skin feeling anything but greasy. The velvety texture soaks into the skin immediately and leaves a smoothness that lasts all day. The candlenut oil in this creme is full of fatty acids which makes is a natural healer for dry skin. This creme is a great go-to for keeping your skin hydrated after those long summer days in the sun!
As you may know, I love mascara and I get to review another one this week! I actually received a mascara that I not only haven't tried, but I've never even heard of… W3LL PEOPLE The Expressionist Mascara. This product is a great lightweight and completely natural mascara. The applicator brush is amazing; the small bristles catch every lash and help grab on to lengthen your lashes while keeping them 100% clump-free. I didn't find the formula to flake or smudge at all throughout the day. If you are looking for a bold dramatic look, this mascara probably isn't for you. But if you want long, natural looking lashes, this mascara was 100% made for you!
Up next is the Marcelle Hydra-C 24H Energizing Hydrating Gel. The name pretty much says it all! This product has a gel texture that has a cooling effect when applied. It's filled with green tea and cucumber extracts plus vitamins C and E, all of which help it to not only hydrate your skin, but protect it all day! The thick gel texture packs serious moisturizer that you won't be disappointed with. It's the perfect product to apply on a light makeup day to help brighten and protect your skin, but due to the thick texture, I wouldn't want to layer much makeup on top of it.
And the last sample in my May Birchbox review is CoTZ® Flawless Complexion SPF 50.  I've received a few sunscreens from this brand before. This gentle formula helps protect you from the sun (SPF 50!) while giving you a sheer coverage for acne prone skin. The best part about this stuff is it's SPF 50 and still has a very lightweight formula. It also has a slight tint to it which is great for any daytime, outdoor parties that you may need to dress up for. The non-greasy formula prevents clogging pores while still covering imperfections. It's the best of both worlds!
---
And that's a wrap for this month's beauty samples! Have you heard of any of these brands or tried any of these products before? Tell me about them in the comments below!
Craving more beauty finds? Check out last month's post, April Birchbox Review, or start getting your own birchbox delivered right to your door!