Birchbox was the first subscription service I ever signed up for and now it's quite possibly my favorite! I just love receiving this adorable little box every month and seeing what's inside. Some months are better than others, but I tend to get a ton of use out of the products. And even if it's not my favorite product, it's usually handy enough to use for my travels! Check out my July Birchbox review below and share what you think in the comments!
If you aren't familiar with birchbox, it's a $10/month subscription to monthly deliveries of beauty and skincare samples. And don't forget… they offer boxes for both men and women! It's truly a mini treat to yourself once a month and it's a fabulous, inexpensive way to get introduced to new brands and products. As an added bonus, birchbox has an amazing rewards program. You get points for each monthly sample you review and each dollar you spend in their shop. 100 points= $10, and those points add up fast!
Check out my July Birchbox Review: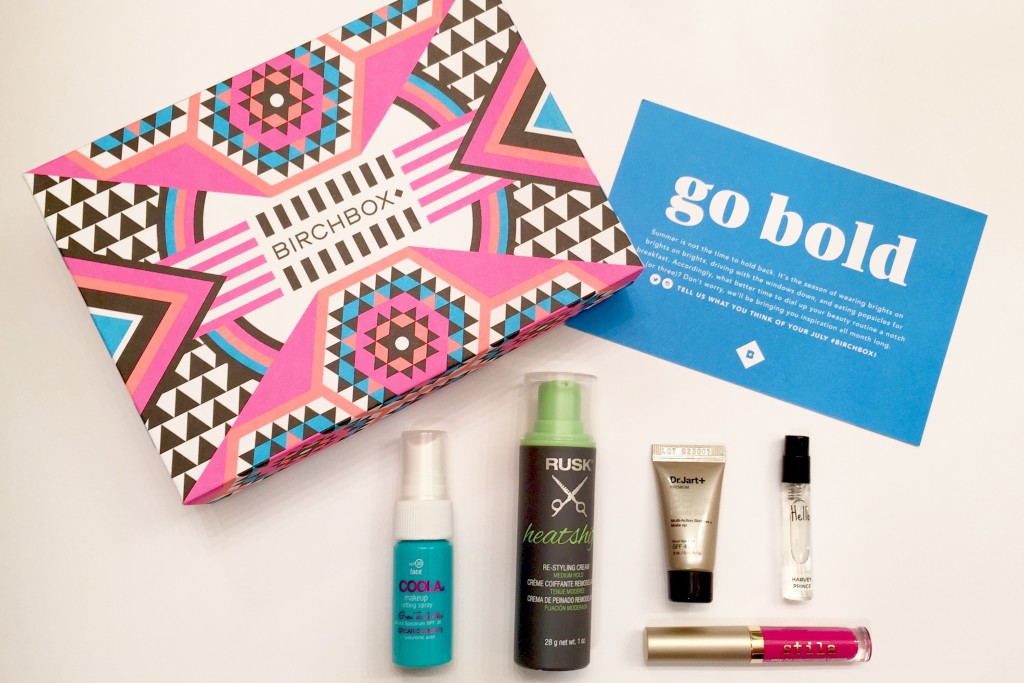 Dr. Jart+ Premium Beauty Balm SPF 45+
COOLA® SPF 30 Organic Makeup Setting Spray
RUSK® Heatshift™ Re-Styling Cream
Harvey Prince Hello, Limited Edition
stila look at me liquid lipstick trio
---
I have gotten a ton of Dr. Jart+ products in my past birchboxes. Just last month, I got the Dr. Jart+ Dermaclear™ Micro Water that I love! This month I received the Dr. Jart+ Premium Beauty Balm SPF 45+ and this product apparently does it all! It's a primer, moisturizer, treatment serum and adds SPF 45+. At first glance I love the stuff. It goes on smooth and even without having to use too much. And the color is great! Unfortunately, I found it to leave my face a bit sticky and it never quite absorbed into my skin. Since I'm someone who wears very light coverage creams on a daily basis, I found it a bit heavy for everyday use.
Makeup setting spray is new to my box of beauty tools. I've used it a few times for big events, but I've never quite understood why I would need to add it to my beauty arsenal. Well now I do! Not only does this COOLA® SPF 30 Organic Makeup Setting Spray add a layer of SPF 30, it also makes my makeup smudge free! I have a 30 minute walk to work so the elements can be rough. Some days it's windy and my eyes water, other days I'm just hot and sweaty! Somehow a simple spritz of this setting spray kept my eyeliner from running, it kept my eyeshadow in place and protected my skin from the intense sun rays! This product is a must for you girls on the go!
RUSK® Heatshift™ Re-Styling Cream is up next! This re-styling cream was basically made for me. I hate blow drying my hair and I always wait at least one day between shampoos. That's where this dream cream comes in handy! For use on fresh hair, it's great! It cut my blow drying time in half! And for one-day-old hair, I applied a little bit to my hair before curling and my hair lasted all day! I found it to hold much longer and better texture than my normal hairspray. Now I'm not sure how I've lived without it all these years!
Next up, I got a small sample of Harvey Prince Hello, Limited Edition . This perfume was inspired by the joy of waking up to a warm day with the sun shining and the flowers blooming. I mean that's what summer is all about, right? The scent is an interesting mix of floral and citrus that literally perked me up when I sprayed it. There is something about smelling this fresh fragrance that energized me in the morning. It's a great scent for a beautiful summer day.
Last, but not least, is the stila look at me liquid lipstick trio. I love getting lipsticks and lipglosses in my birchboxes, but this one is unlike any I've received in the past. This lipstick is on for the day, whether you like it or not! Good thing I like it!! I received the bright pink color, which is bold, matte and irresistible! The creamy texture glides on thick, but sets to a matte paint very quickly. And once it dries, this lipgloss won't come off on your coffee cup or your man. And it's easy to remove at the end of the night with makeup remover, no staining! I'm addicted to my sample and will be buying a few colors for backup!
---
And that's a wrap for this month's beauty samples! Have you heard of any of these brands or tried any of these products before? Tell me about them in the comments below!
Craving more beauty finds? Check out last month's post, June Birchbox Review, or start getting your own birchbox delivered right to your door!