Would you love getting sparkly jewelry delivered to your doorstep? Yep, thought so! If you haven't already, it's time for you to check out Rocksbox! (Use the code chelseabff5 to get your first month free!!)
I've had a subscription to Rocksbox for quite a while now. Not every box I've gotten has been perfect for me, but I've had a lot of fun trying out new designers and styles that are different than what I normally gravitate toward. But May's Rocksbox was different. I was seriously in love with every single piece! They each were so versatile yet packed so much personality! Before I dig into the deets, here's what Rocksbox is all about…
---
 How it works:
1. BECOME A SHINE INSIDER ($19/month)- Take the style survey and add items to your jewelry Wish List.
2. GET 3 PIECES TO WEAR ON LOAN- Each piece is hand-selected for you based on your style and specific requests. Wear your pieces as much as you want!
3. RETURN ANYTIME TO GET 3 NEW PIECES- Return your Rocksbox pieces anytime and as often as you like. Every set has 3 pieces of designer jewelry, worth an average of $200 per set.
---
Check out my May Rocksbox: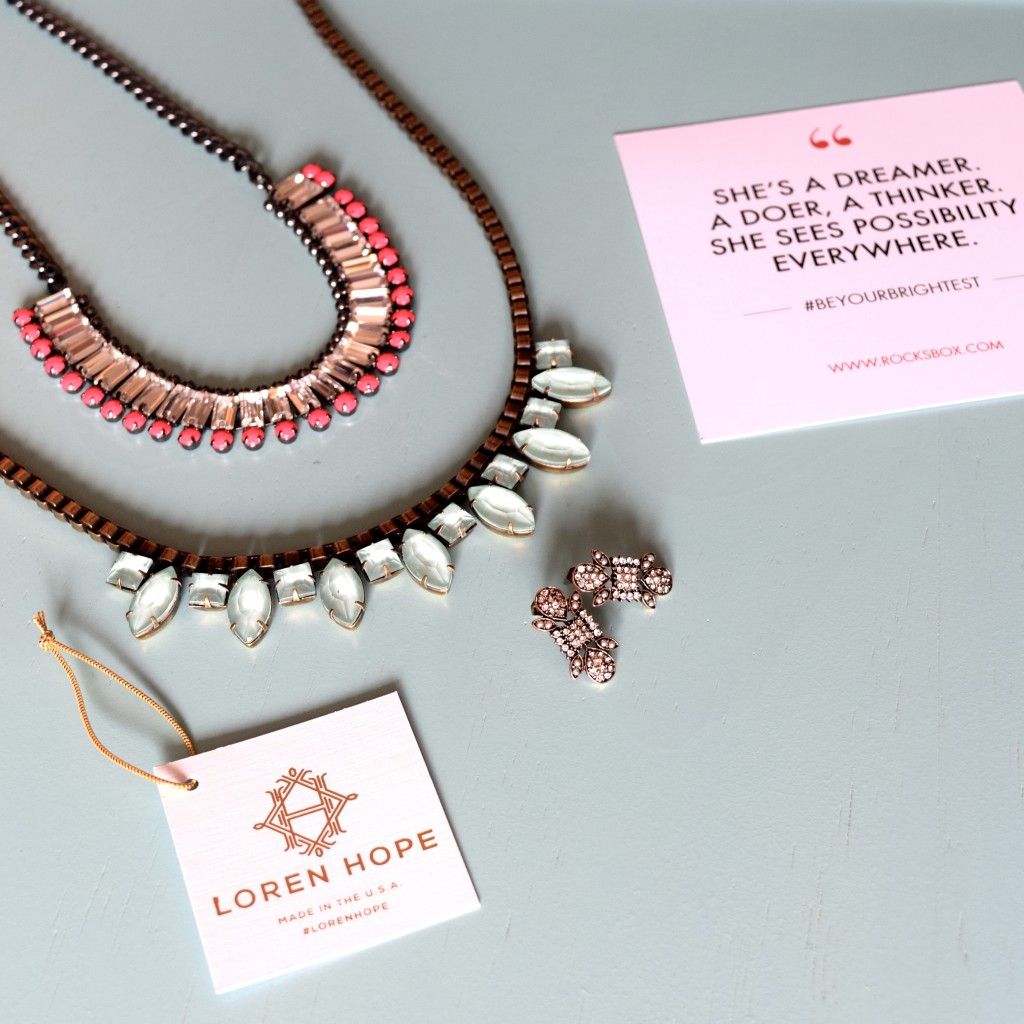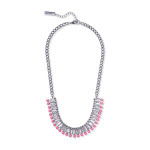 Perry Street Isla Necklace (retails at $64, member price is $51)– When I opened this month's box I was in awe by this hot pink necklace. It has a simple design, but the color makes it bold and fun. It adds a ton of personality to any outfit and can hold its own with the ultra girly looks in your closet or even glam up your casual jeans and white tee. It's the perfect mix between a statement necklace and dainty look, you definitely get your bang for your buck with this guy!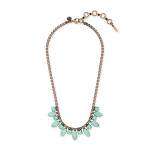 Loren Hope Palmer Necklace in Seafoam (retails at $118, member price is $94)- Although this necklace didn't "wow" me initially, I found myself gravitating to it every morning. You wouldn't think this mint hue would go with much in your closet, but somehow it complimented nearly everything I wore. I especially loved the longer length of the chain, making it easy to layer with different necklaces and necklines. It was by far my favorite piece this month!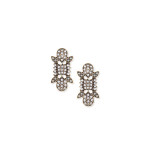 Perry Street Elise Earrings (retails at $38, member price is $30)- I love these studs! The size of them is perfect. They are big enough to make a bold statement, but light enough that I don't even notice the weight of them after a long day. The antique gold and rhinestone look makes these earrings so versatile. I ended up wearing them with gold, silver and even by themselves and got a ton of mileage out of them. They become my go-to studs for weeks!
---
I mean how amazing was that box? Are you like me and can't get enough of Rocksbox? Try checking out last month's set of jewelry, April RocksBox Review.
Still want more? Sounds like you are ready to get your own Rocksbox! Go to Rocksbox and use code chelseabff5 to get your first month FREE! Enjoy! And don't forget to share your thoughts on my Rocksbox jewels in the comments below!