Would you love getting sparkly jewelry delivered to your doorstep? Yep, thought so! Time for you to check out Rocksbox! (Use the code chelseabff5 to get your first month free!!)
I've had a subscription to Rocksbox for quite a while now. Not every box I've gotten has been perfect for me, but I've had a lot of fun trying out new designers and styles that are different than what I normally gravitate toward. April's Rocksbox was no exception! Before I dig into the deets, here's what Rocksbox is all about…
---
 How it works:
1. BECOME A SHINE INSIDER ($19/month)- Take the style survey and add items to your jewelry Wish List.
2. GET 3 PIECES TO WEAR ON LOAN- Each piece is hand-selected for you based on your style and specific requests. Wear your pieces as much as you want!
3. RETURN ANYTIME TO GET 3 NEW PIECES- Return your Rocksbox pieces anytime and as often as you like. Every set has 3 pieces of designer jewelry, worth an average of $200 per set.
---
Check out my April Rocksbox: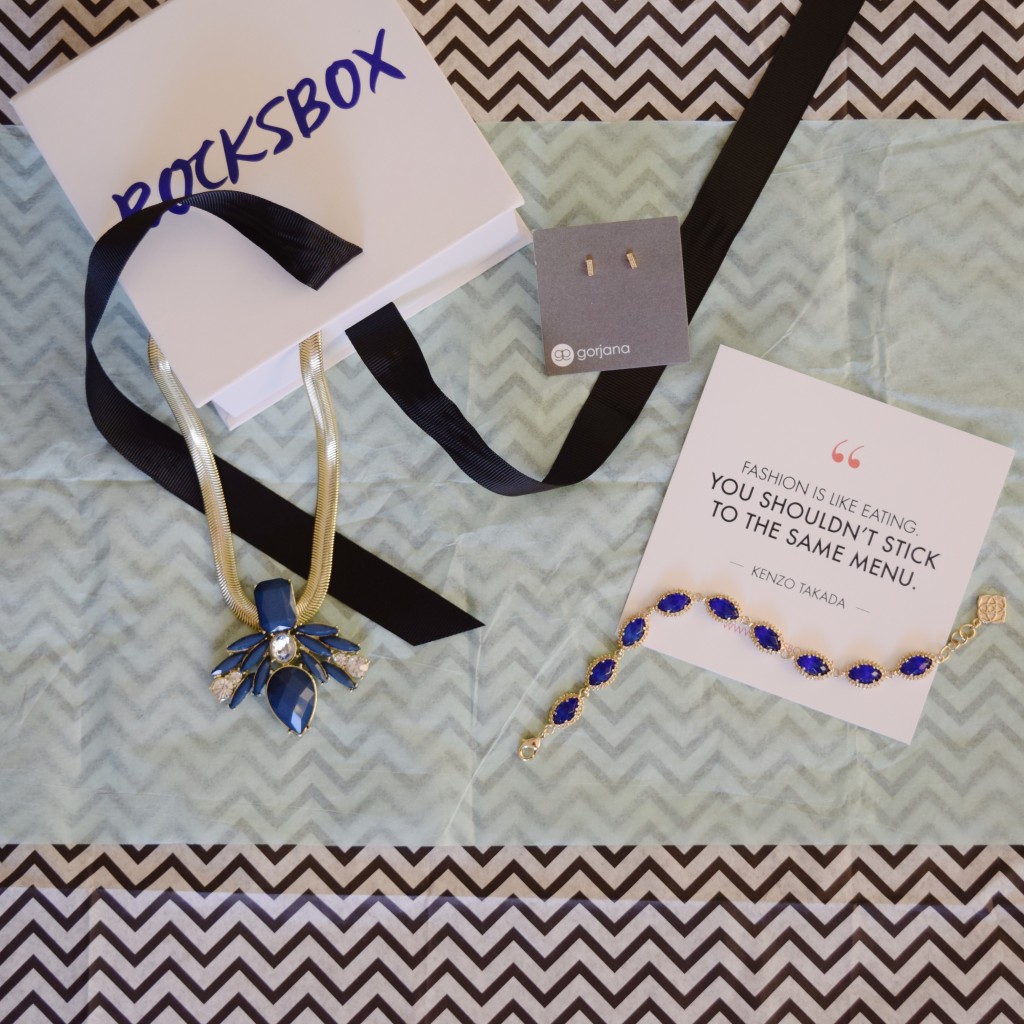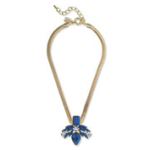 Perry Street Eve Necklace (retails at $64, member price is $51)– I love this statement necklace! This pendent style is different than any statement piece I have in my collection. Most of my statement necklaces are bib silhouette and multi colored. This couldn't be more different! I love the teal jeweled broach hanging from this bold gold chain. My only complaint is the condition of the necklace. I've never had an issue with this before, but the thick chain was a little banged up… you could tell this guy had been shipped out a few times!

Gorjana Mave Shimmer Mini Studs (retails at $30, member price is $24)- These studs are adorable! For those of you keeping track, I love Gorjana! They make great quality jewelry that lasts and you can be proud to wear! When Gorjana says mini, they mean mini! These earrings were a little small for my taste, but I love the simple design and the versatility. I got a ton of use out of them and loved pairing them back to my other Gorjana pieces. 

Kendra Scott Jana Bracelet in Cobalt (retails at $80, member price is $64)- I finally got a Kendra Scott piece in my Rocksbox! I've been drooling over the Kendra Scott cuffs for months so I jumped for joy when I saw the Kendra Scott jewel bag in my box! It didn't end up being one of the cuffs I was dying for, but a pretty cobalt bracelet instead. The bracelet is gorgeous and delicate in person which I loved! But I found it a little tricky to put on by myself so I didn't get as much use out of it as I hoped.
---
Are you like me and can't get enough of Rocksbox? Try checking out last month's set of jewelry- March RocksBox Review.
Still want more? Sounds like you are ready to get your own Rocksbox! Go to Rocksbox and use code chelseabff5 to get your first month FREE! Enjoy! And please share your thoughts of Rocksbox in the comments below!