Magical things happen in Spring. Birds start chirping, flowers bloom, and people come out to soak up the sun.
I don't know about you, but to me the spring season is all about getting out of hibernation and enjoying the outdoors. There are trails to be explored, parks to be sat in, pools to be swam in and most importantly… spring shoe trends to be worn! Lucky for you, I've got the perfect footwear to start your spring off on the right foot (pun intended), no matter your budget!

When looking for shoes to go out and enjoy the spring weather in, I have a few requirements… First of all, comfort! I love shoes that can be slid on and off easily and are comfortable enough for me to wear for hours. Second, versatility! It's important for my shoes to not only be able to pair back to multiple things in my closet effortlessly, but I want them to take me from day to night. Spring days out and about often turn into spring nights unexpectedly! I don't want to be caught in my flip flops while trying to enjoy a nice dinner with friends. Lastly, price! As you know, I am always price-conscious and shoes are no exception. I walk around so much that I find myself literally running my shoes into the ground. Between how fast I wear through them and how quickly trends change, I prefer to stick to a strict budget to keep both my wallet and my feet happy.
With that said, I pulled together some easy, budget friendly styles below. I can still hardly believe all these styles are under $30!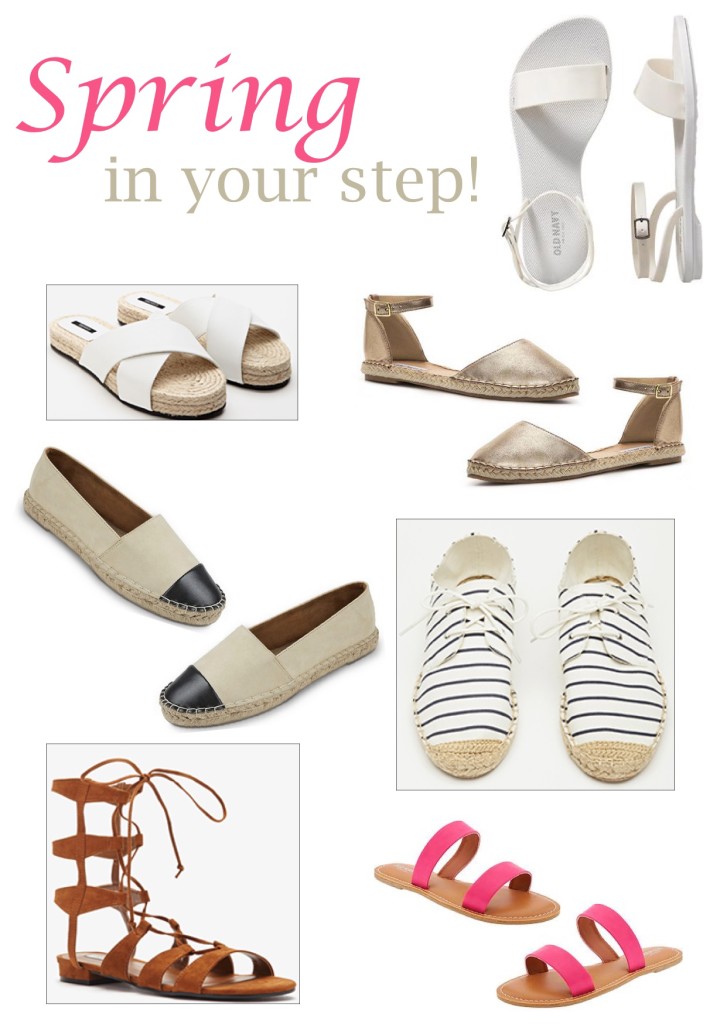 shop spring shoe trends:
Ankle Strap Sandals ($13) / Espadrille Flatform Slides ($20) / Steve Madden Annee Flat ($25) / Cap Toe Espadrilles ($25) / Striped Lace Up Espadrilles ($16) / Lace Up Gladiator Sandal ($28) / Double Banded Slide Sandal ($20)