Although I no longer have an official spring break, my calendar is always packed with weekend getaways. Between my trips to the beach, wine country and Southern California, I've been packing for the sunshine a lot lately. And after all this practice, I've got it down to a science! That's why I pulled together today's spring getaway guide.
My spring getaway guide has a definite beach vibe- featuring tassels, fringe, lace and more! My vacation looks are always about staying casual and effortless. I believe you should be able to go comfortably from poolside to town without a major wardrobe change. And lucky for you my picks below help you do just that!
Packing for a trip is all about the staples. Bring a statement hat, sunglasses and a great cover-up and you are already half-way there! Now, just add a few swimsuits and your favorite shoes in a beach bag and you are good to go! (Make sure you check out my spring shoe trends post for more amazing deals on shoes!) As long as you stick to more neutral items, your outfitting will be a breeze no matter where you are.
Versatility is key, but my favorite part about this collection is the price tag! Each of these items can be found for under $30, can you believe it? I am obsessed with the tassel bracelets from gold and gray and the H&M beaded shorts, I can see myself wearing these with everything! Shop these items below and share your favorite spring getaway finds in the comments!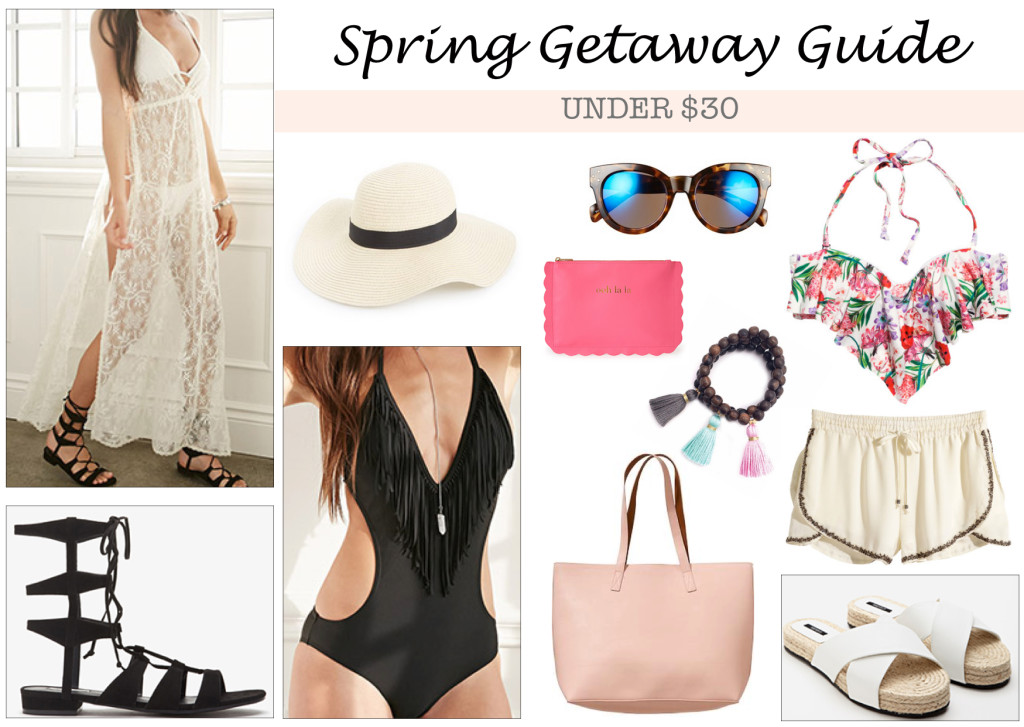 shop the spring getaway guide:
Forever 21 Crochet Maxi Cover-Up ($23) / Nordstrom Floppy Straw Hat ($22) / Forever 21 "ooh la la" pouch ($5) / Nordstrom BP Sunglasses ($12) / H&M Floral Bikini Top ($20) / Forever 21 Lace Up Gladiators ($28) / Forever 21 Fringed Cutout Swimsuit ($25) / Old Navy Reversible Pink Tote ($29) / Gold and Gray Wooden Tassel Bracelets ($26) / H&M Beaded Shorts ($30) / Forever 21 Flatform Criss-Cross Espadrilles ($20)