Working out is getting cooler than ever. Consumers are taking their fitness obsession to a whole new level. There's high-tech workout gear that is specifically engineered to keep you cool, dry and odor-free and even technology like Athos, that uses sensors to become your next personal trainer. There's so much innovation happening in workout gear to make us healthier, safer and stronger. Check out a few of the amazing products I pulled together below… I am especially excited to see this SmartMat Yoga Mat when it launches later this year!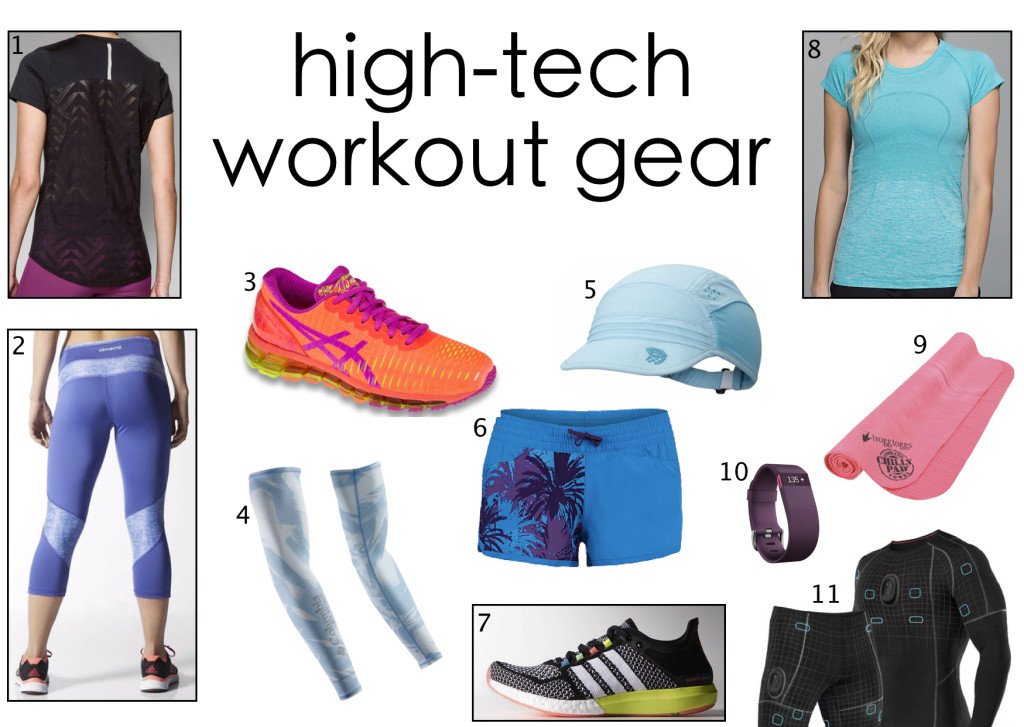 shop high-tech workout gear:
1- Under Armour ArmourVent™ Tee– mesh back panel gives you true breathability while wicking sweat to keep you dry and light
2- adida's Techfit Climachill Tights– constructed with titanium-infused yarn for a cool feel and a ventilating effect with a strategic techfit® that supports you as you train
3- Asics Gel Quantum 360 Footwear– instead of foam, the soles are filled with gel pockets that cushion your foot and give you stability as you hit the concrete, giving you support exactly where you need it
4- Columbia Freezer Zero™ Arm Sleeves– Omni-Freeze ZERO fabrication lowers the material's temperature to keep you feeling cooler while providing UPF 50 protection from the sun
5- Mountain Hardwear Chiller™ Ball Cap– Cool.Q™ ZERO (aka little blue circles) use your sweat to lower the temperature of the fabric, providing a cooling sensation while it's UPF 25 fabric protects you from the sun
6- Zoot Sports Run 101 Shorts– built-in briefs with Icefil® technology in the fabric reflects heat and keep you 5 degrees cooler while giving you protection from the sun (UPF 50+)
7- adidas Climachill Cosmic Boost Shoes– helps keep your feet cool with active 360-degree ventilation and quick-drying, micro-perforated Aerocool fabric
8- lululemon Swiftly Tech Crew– breathable, lightweight and sweat-wicking fabric keeps you cool while Silverescent® technology goes the extra mile and inhibits the growth of odor-causing bacteria
9- Frogg Toggs® Chilly Pad™ Towel– fabric that retains water yet remains dry to the touch, all you need to do is dip it in water, wring it out and the temperature immediately drops 30 degrees
10- fitbit ChargeHR Wristband– tracks continuous heart rate, all-day activities (walking, running, floors climbed, etc.), calculates calories burned, monitors sleep and even includes Caller ID
11- Athos Smart Fitness Apparel– new wearable technology with sensors in the leggings and shirts that measures muscle activity, heart rate, and respiration all in real time
12- SmartMat Yoga Mat (not pictured, launching late 2015)- intelligent yoga mat that detects when you're out of alignment and gives you real-time feedback on how to correct your pose.