For those of you not familiar with the Royal Ascot, it's an annual horserace in the UK where the attendees might not be able to tell you who won the race, but they can tell you who designed Kate Middleton's dress. This race dates all the way back to 1711 and some of the dress code requirements do as well! Don't even thinking about baring your midriff or showing your knees. And hats are not only worn to make a fashion statement, they are actually required (at least 4 inches wide!). And for my homegirls in the US… the hats worn at this social event of the season put the Kentucky Derby to shame.
Farfetch put me up to the challenge of finding the perfect head-to-toe look for the upcoming Royal Ascot Race and I have been having a blast with it. I have three pieces of advice when styling a look for an event like this. (1) When an outfit is all about the accessory, start there! (2) Find the right balance of classic and trend, not costume (3) Even if there's a dress code, don't take it too seriously.
Have fun with it! If you feel comfortable and love your look, your confidence will give you all the swagger you need! My whole look started with this beautiful hat. The wood, burlap and floral details look like inspiration pulled right from my wedding tablescape! When I saw this hat, it immediately pulled at my heartstrings and I knew it was the one to build my look off of. Picking a dress wasn't as easy, but I have been seriously obsessed with gingham lately. I have been scouring the streets for the perfect gingham midi skirt so once I saw this Oscar De La Renta masterpiece, my search was over. To compliment my feminine, spring look I opted for shoes that were basically made for this ensemble, Charlotte Olympia's blue suede pumps. (and to be honest I've always wanted a pair of blue suede shoes!) Last but not least, I finished my look with a dainty gold bracelet and clutch. Too bad I won't be in the UK for the race because I would totally rock this look! I hope you guys enjoy my look for the Royal Ascot, make sure to shop the links below and share your favorites in the comments!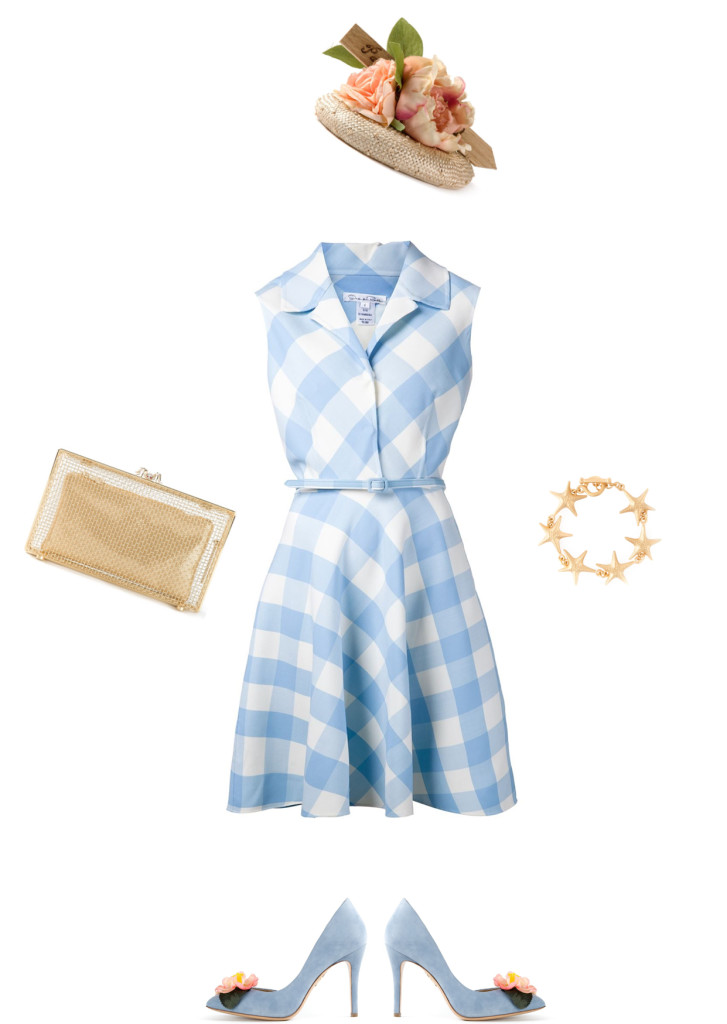 shop my royal ascot look at farfetch:
flower hat / gingham dress / gold clutch / sea star bracelet / blue flowered pumps