Mascara is a big deal to me… I'll admit it, I'm a snob! On a daily basis, I don't wear much makeup, but mascara is always a must. I've been searching this great country far and wide for the best mascaras and I think I'm finally ready to share my findings with you! Whether you are looking for natural, just curled lashes or sultry betty boop eyes, I have the mascara for you (and how you should be using it!)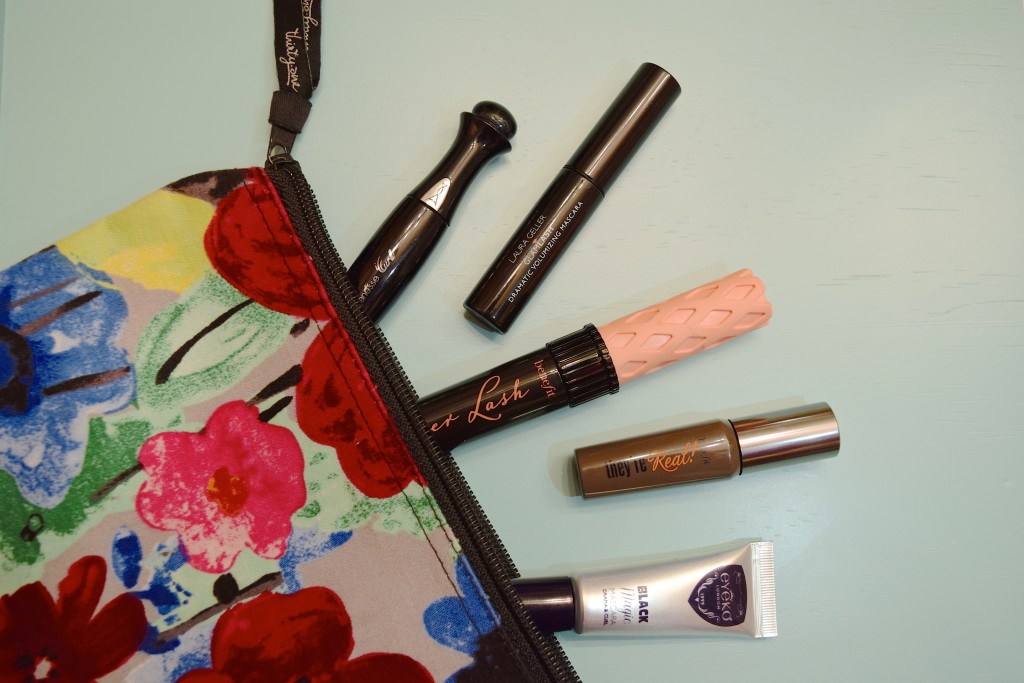 Check out my mascara reviews below and share any tips or favorite products you have in the comments!
Mirenesse iCurl Secret Weapon 24 Hour Mascara ($49)- This award winning mascara is seriously a secret weapon, but you pay for it! Retailing double that of my other picks below, you can grab a tube of Mirenesse's iCurl for $49. This mascara is best for lengthening and actually lifting your lashes to that 90 degree betty boop angle. The formula and brush combo slides smoothly through your lashes and builds the length with it's tube technology that doubles the length of your lashes in a blink of an eye! For best results, Mirenesse suggests pairing it with their iCurl Twin Heated Lash Curler. I have yet to try this, but the reviews are amazing. Best part about this mascara? it lasts for 24 hours! No mess, smudges or raccoon eyes.  And no more makeup remover, it comes off easy with warm water!
Laura Geller Beauty GlamLASH Dramatic Volumizing Mascara ($24)- This GlamLASH mascara is perfect for anyone with fine eyelashes. It is the first mascara I have ever tried that actually finds and lengthens every single tiny lash. Many similar mascaras leave me with smudges, clumps and a mess, but I experienced none of that with GlamLASH. For days when I want a more natural daytime look, I swipe one or two coats of this on and I'm good to walk out the door. Occasionally when I find myself using other lengthening mascaras, I will finish with a swipe of this to separate my lashes and get rid of any clumps, it's seriously amazing.
Benefit Roller Lash ($24)- This mascara has quickly become the "it" product for your eyes in 2015 and now I know what all the hype is about! In just one coat this mascara separates, lifts and lengthens dramatically (and I mean dramatically!) I wasn't sure what to expect from this "roller lash"… would the applicator actually move or roll? Well, it doesn't. It gets it's name from the "Hook 'n Roll" technique it uses to grab your lashes and curl them.  It has an instant curve setting formula that lasts for 12 hours, leaving you with long, super-natural looking lashes. If your lashes are in the mood for a night out, try using the Benefit's They're Real! Mascara (reviewed below) after applying the Roller Lash. The results are amazing!
Benefit They're Real! Mascara ($24)-Benefit's They're Real! mascara quickly got overshadowed once the Roller Lash came to town. The benefits over the others? It's super black, goes on easily and lengthens and separates in just two coats. The downside? I wasn't a huge fan of the brush applicator. I have pretty short eyelashes (that's why I love lengthening mascaras so much!) and I found it hard to apply on my short naked lashes and I didn't get as much curl and height as I expected from Benefit. But once I tried layering it with the Benefit Roller Lash listed above… WOW! I got the best of both worlds! My lashes looked so long, thick and amazing, they almost looked fake! Speaking to the They're Real on it's own, I wouldn't invest in it over my other picks, but if you have the Roller Lash it's definitely worth pairing them together. I would suggest this duo for any big event, they will not disappoint!
Eyeko Black Magic Mascara ($24)- Not every girl needs her mascara to separate and lengthen, and this Black Magic mascara is for the girl looking for dark, thick lashes. The brush has an extreme curve to it, helping to give you the perfect curl as you apply it to your lashes. And this formulas goes on wet! It's much creamier than other mascaras I've tried and it took me awhile to get used to it. But if you apply from root to tip slowly, the formula sets up a little and gives you an amazing curl, thick dramatic lashes and the blackest of black lashes. This is my go-to mascara to layer with my roller lash for a night out on the town, there is something sultry and mysterious about this mascara that goes great with a smokey eye!