Would you love getting sparkly jewelry delivered to your doorstep? Yep, thought so! If you haven't already, it's time for you to check out Rocksbox! (Use the code chelseabff5 to get your first month free!!)
Returning a set of jewelry is always bittersweet, but I'm always excited to see what I get next from Rocksbox! Lately, I've been lucky enough to get a lot of new designers and styles in my boxes that I've never tried before and my august rocksbox was no exception! I've been getting a ton of use out of every piece. Before I dig into the details, here's what Rocksbox is all about…
---
 How it works:
1. BECOME A SHINE INSIDER ($19/month)- Take the style survey and add items to your jewelry Wish List.
2. GET 3 PIECES TO WEAR ON LOAN- Each piece is hand-selected for you based on your style and specific requests. Wear your pieces as much as you want!
3. RETURN ANYTIME TO GET 3 NEW PIECES- Return your Rocksbox pieces anytime and as often as you like. Every set has 3 pieces of designer jewelry, worth an average of $200 per set.
---
Check out my August Rocksbox: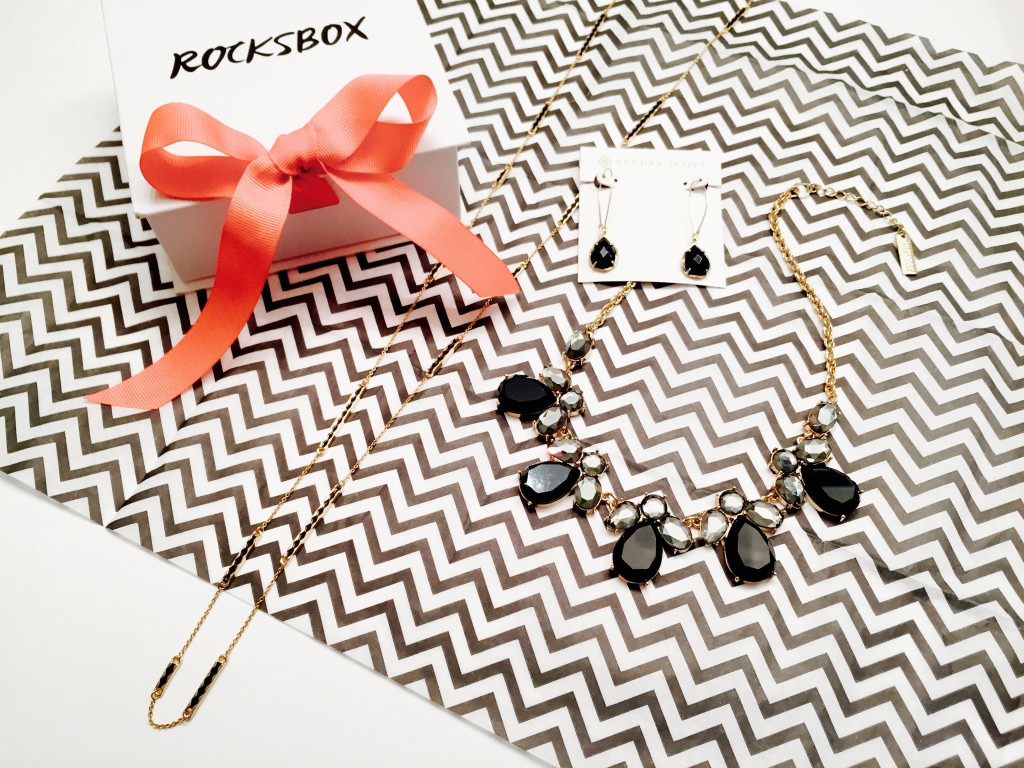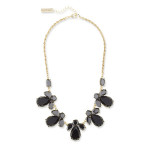 Perry Street Abby Necklace in Black Crystal (retails at $76, member price is $60)– This black and grey statement necklace is the perfect amount of edgy glam! It adds a sophisticated touch to any outfit and has been my go-to accessory for date night. The soft curves of the gems leave this necklace feeling romantic. And my favorite part is it's black so it goes with almost every outfit in my closet!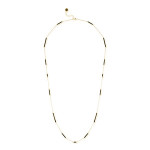 House of Harlow 1960 Sunburst Bar Wrap Necklace in Gold (retails at $38, member price is $30)- I love this delicate House of Harlow necklace. The mixture of black and gold is perfect, I find myself layering it with all my work pieces. It's great layered with any of my delicate gold necklaces and this one is a perfect length, which means it's great to where as is wrap it and double it up!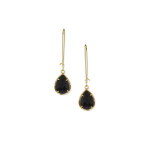 Kendra Scott Dee Earrings in Black Opaque Glass (retails at $45, member price is $36)- With my newer short hair, I am loving drop earrings! They are elegant and immediately dress up any look! These black and gold kendra scott beauty's not only go great with my other rocksbox picks, but they also go with tons of other choices in my jewelry box and closet. They are simple and effortless adding interest to any look!
---
And that wraps it up for this month's box! Are you like me and can't get enough of Rocksbox? Try checking out last month's set of jewelry, July RocksBox Review.
Still want more? Sounds like you are ready to get your own Rocksbox! Go to Rocksbox and use code chelseabff5 to get your first month FREE! Enjoy! And don't forget to share your thoughts on my Rocksbox jewels in the comments below!