Birchbox was the first subscription service I ever signed up for and now it's quite possibly my favorite! I just love receiving this adorable little box every month and seeing what's inside. Some months are better than others, but I tend to get a ton of use out of the products. And even if it's not my favorite product, it's usually handy enough to use for my travels! Check out my August Birchbox Review below and share what you think in the comments!
If you aren't familiar with birchbox, it's a $10/month subscription to monthly deliveries of beauty and skincare samples. And don't forget… they offer boxes for both men and women! It's truly a mini treat to yourself once a month and it's a fabulous, inexpensive way to get introduced to new brands and products. As an added bonus, birchbox has an amazing rewards program. You get points for each monthly sample you review and each dollar you spend in their shop. 100 points= $10, and those points add up fast!
Check out my August Birchbox Review: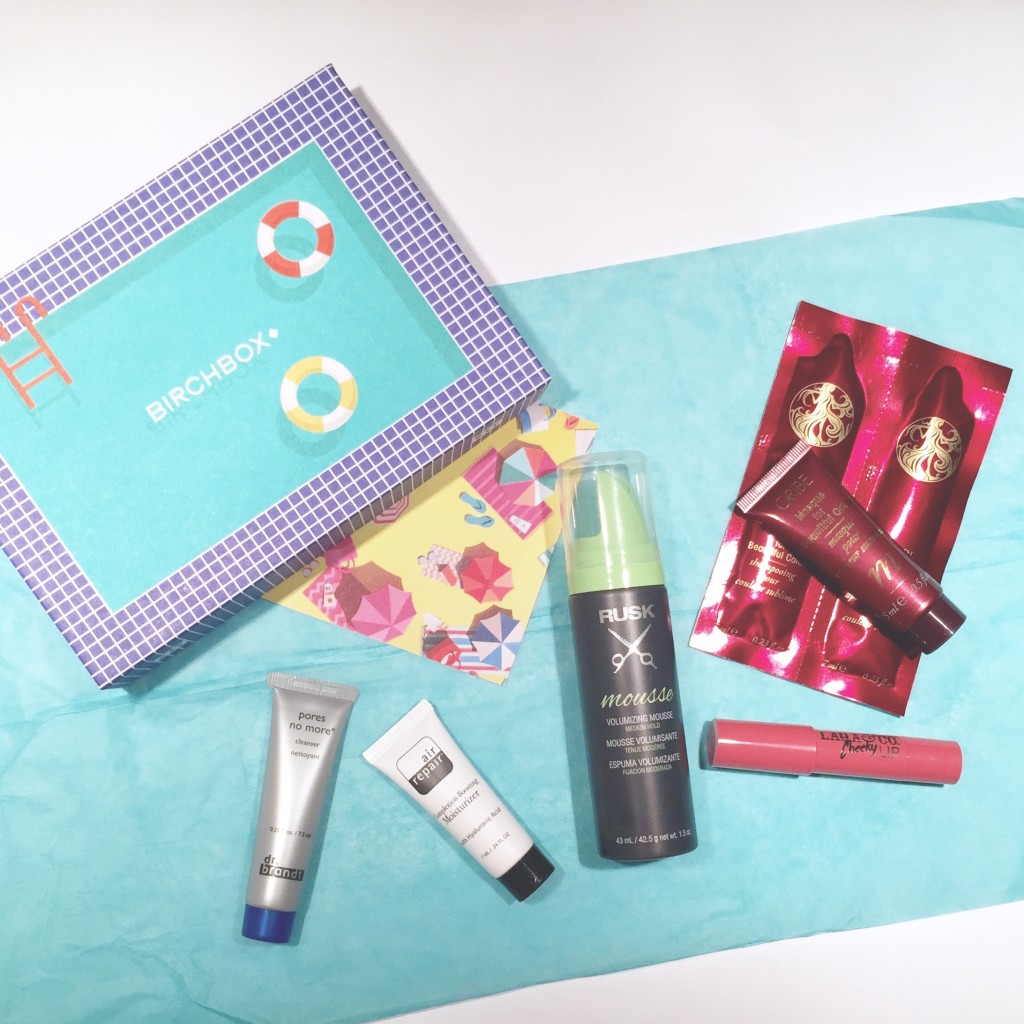 LAQA & Co. Charm School Kit
RUSK® Volumizing Mousse
Oribe Shampoo, Conditioner and Masque for Beautiful Color
dr. brandt® pores no more® cleanser
Air Repair Complexion Boosting Moisturizer
---
Ready to get cheeky? This LAQA & Co. Charm School Kit comes with three colors of creamy crayons that can be used for your cheeks, your lips, or even both! I received the pink, humble brag, color in my august birchbox. I tried it on both my lips and my cheeks and boy, that did not turn out well! While this crayon is just as easy to apply as doodling in my coloring books when I was little, the color is super bright, so proceed with caution! First, I tried it on my cheeks. After a lot of blending, it actually looked really pretty. On the other hand, it did not look so hot on my lips. Somehow, it feels a little waxy and was a bit chalk looking once applied. Although I will continue to use it on my cheeks, I do not suggest even trying it on your lips, unless you plan to ride around in a clown car.
If you remember from my July Birchbox Review, I tried RUSK out for the first time last month with the RUSK® Heatshift™ Re-Styling Cream. This month I received another RUSK product, the RUSK® Volumizing Mousse. I usually try to stay away from mousse since the alcohol in it's ingredient list tends to dry hair out. But, I made an exception today to try this mousse! This rich, foamy product gave my hair texture and body without adding in crunch. I found my hair to hold it's style much longer than usual as well. While I don't often need my hair to be so poised and put together, this mousse will be a good go to for special nights out!
Next, I tried the Oribe Shampoo, Conditioner and Masque for Beautiful Color and I loved the whole set! My hair hasn't looked this good in a long time. I feel like this miraculous formula somehow undid all the coloring, drying, curling, etc. that I've put my hair through over the years. It left my hair looking super shiny and feeling silky smooth… no to mention, it smells amazing! I think this shampoo, conditioner and masque set is definitely in the "splurge" price range for me, but it seems like it's worth the money. Since I no longer color my hair, I don't think I necessarily need this level of nourishment, but it would be great for someone trying to get their hair back on track! (Or someone who has a large hair budget $$!)
I've had a few dr. brandt products in my boxes before. I've even tried dr. brandt® pores no more® cleanser in the past. The main reason I like this cleanser is it was developed by an actual dermatologist. It gives me a lot of trust in this product. Not to mention it works! A little goes a long way with this lathering product. It left my skin feeling smooth, hydrated and looking refreshed! I don't have a big issues with pores, but everyone says it helps dramatically in minimizing pores! If that's your issue, be sure to check it out.
Air Repair Complexion Boosting Moisturizer was the final sample in my august birchbox. This moisturizer is the best face moisturizer I've tried in a long time. It smells amazing and is cool and refreshing when applied. It seriously rejuvenated my skin and left it immediately feeling hydrated. I tried it on one side of my face and found myself stroking that side of my face over and over! It was just so darn smooth! It will be great for my dry skin in the winter and I can't wait to buy the full size!
---
And that's a wrap for this month's beauty samples! Have you heard of any of these brands or tried any of these products before? Tell me about them in the comments below!
Craving more beauty finds? Check out last month's post, July Birchbox Review, or start getting your own birchbox delivered right to your door!