Summer always seems to just fly by! No matter where you live, everyone seems to be on the go. That's why I pulled together these ten summer must haves that you need now to make your summer a breeze.
1- A comfy, wear-everywhere tank. I have the boyfriend tank below that I wear non-stop. The fit is perfect and it looks great with distressed denim.
2- A bandana. Bandanas are the hot new accessory and this bandana scarf will save you the trouble of rolling and knotting one. Throw it in your hair for a quick fix to a bad hair day!
3-  Statement sunglasses. These round shades scream boho and give a nod to the seventies.
4- A tote. I am obsessed with this reversible tote. One- it's reversible! Two- it fits a ton of stuff. Three- it has a handy attached pouch to keep your valuables (aka your lipstick).
5- Summer cardigan. Layers are key for those chilly summer bonfires! This patterned cardigan gives you coverage and warmth while keeping a summer look.
6- Hat. Perfect for covering up that pool hair that didn't quite dry right. You will be glad you have this hat to cover up any bad hair days.
7- Boho top. I love having a go-to top that screams summer and this bell sleeved lace top does the trick. Did someone say coachella?
8- Boyfriend jeans. For those days you don't have time to shave your legs? Never fear, your boyfriend jeans are here!
9- Denim cutoffs. Enough said… it's summer!
10- Walk everywhere sandals. In the summer, I find myself walking my sandals into the ground! What better shoes to prance around town in than these lace-up sandals that go with everything?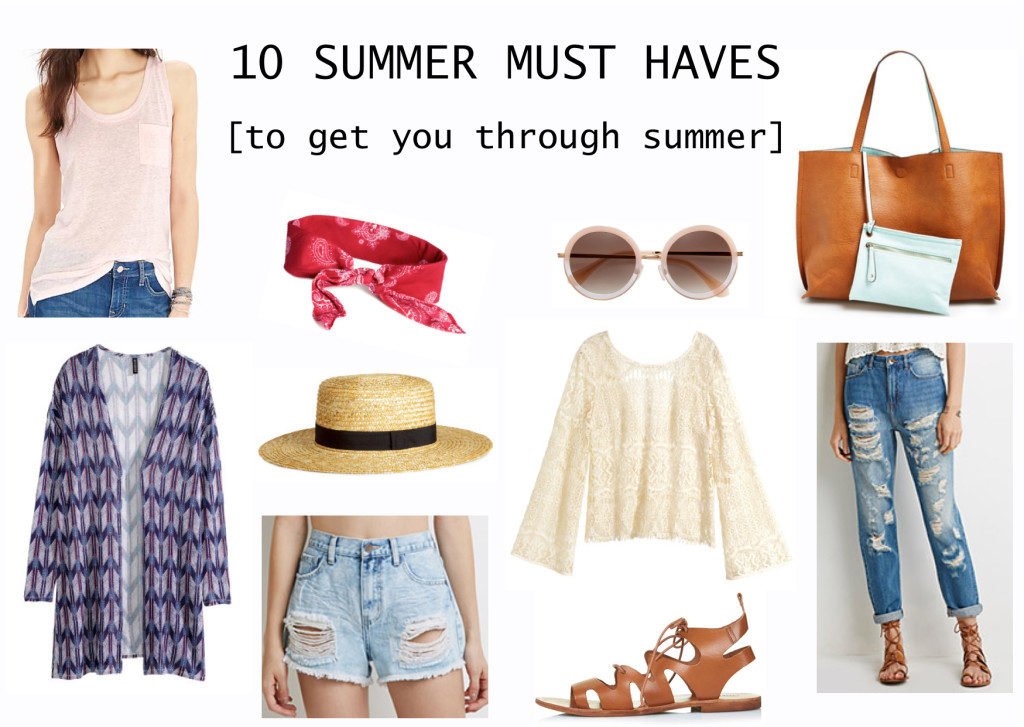 shop my 10 summer must haves:
Boyfriend Tank ($16) / Bandana Scarf ($6) / Round Sunglasses ($18) / Reversible Tote ($48) / Patterned Cardigan ($18) / Straw Hat ($13) / Lace Top ($30) / Boyfriend Jeans ($33) / Denim Cutoffs ($18) / Lace-Up Sandals ($65)