Birchbox was the first subscription service I ever signed up for and now it's quite possibly my favorite! I just love receiving this adorable little box every month and seeing what's inside. Some months are better than others, but I tend to get a ton of use out of the products. And even if it's not my favorite product, it's usually handy enough to use for my travels! Check out my April Birchbox Review below and share what you think in the comments!
If you aren't familiar with birchbox, it's a $10/month subscription to monthly deliveries of beauty and skincare samples. And don't forget… they offer boxes for both men and women! It's truly a mini treat to yourself once a month and it's a fabulous, inexpensive way to get introduced to new brands and products. As an added bonus, birchbox has an amazing rewards program. You get points for each monthly sample you review and each dollar you spend in their shop. 100 points= $10, and those points add up fast!
Check out my April Birchbox Review: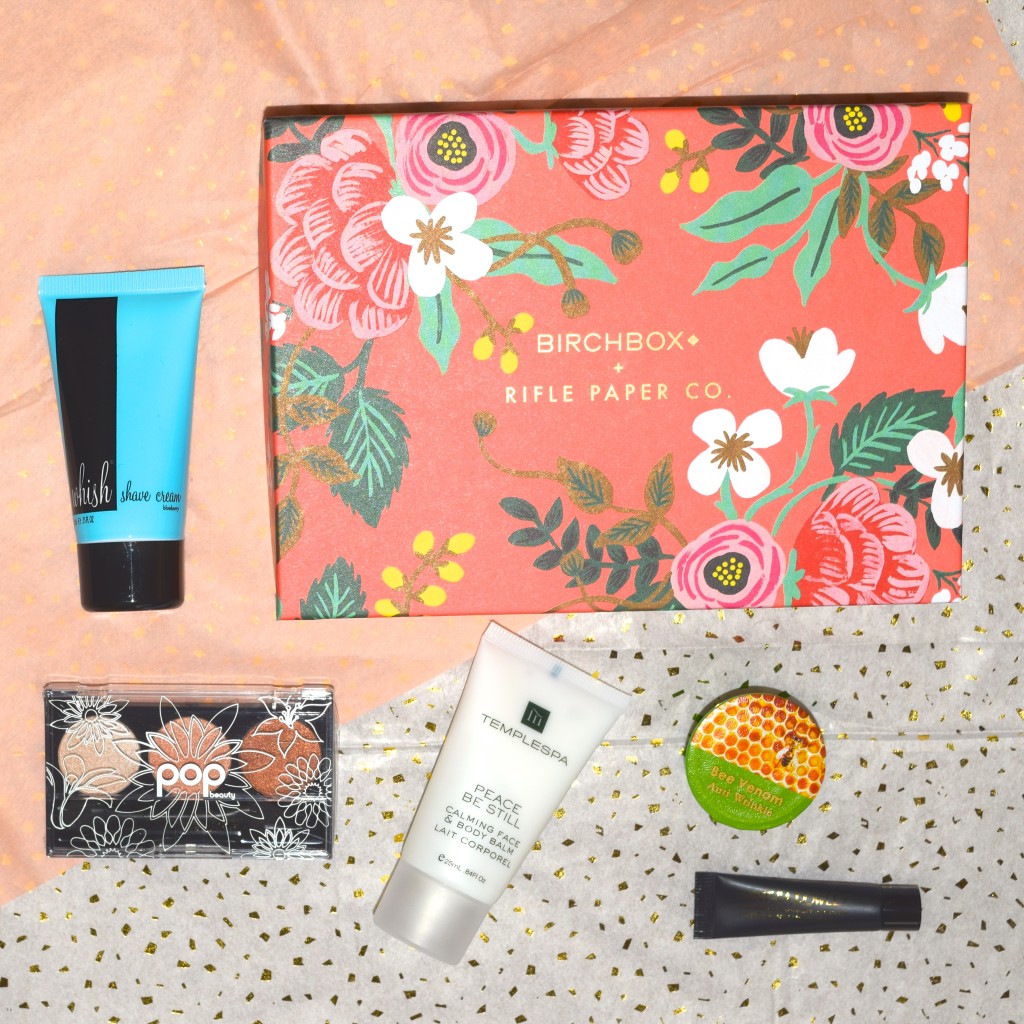 Whish Shave Crave Shaving Cream
POP Beauty POP Portfolio Eyeshadow Palette
WEI™ Manuka Bee Venom Mask
Cynthia Rowley Beauty Brightening Illuminator
Temple Spa Peace Be Still Calming Face & Body Balm
---
Have you heard of Whish yet? Well, birchbox has been loving this brand lately! This Whish Shave Crave Shaving Cream sample is the third Whish product I've received in my birchbox so far. I've actually even received this same product in a different scent in a previous box. Thus far, I haven't been blown away by any of their products. My main issue with this shaving cream is the texture, it doesn't foam or lather. Therefore, I find myself using much more than I would a traditional lathering shaving cream. On the other hand, one definite perk is my legs actually felt moisturized after shaving. I don't mean they felt less dry than normal, they actually felt moisturized with no need for any lotion after shaving!
Next to be reviewed is the POP Beauty Portfolio Eyeshadow Palette. I'm a sucker for makeup palettes! I have palettes from a few different brands, but I haven't heard of POP Beauty before receiving this sample. My sample is a trio of shimmery bronze eye shadows… which is right up my alley! I think the colors are great. They give the perfect amount of shimmer and bronze that can pass for both daytime and evening wear. The colors look great blended together, perfect for everyday use! And the full palette has 36 colors, enough for even the most adventurous girls!
Now for an interesting one, WEI™ Manuka Bee Venom Mask. Yeah you read right, I said bee venom! I am told by birchbox, "the purified venom in this mask is gentle and nourishing, and combines with healing herbs to help to fight wrinkles, correct imperfections, and firm skin." Not sure what benefits are coming from the bee venom, but I did really love this mask! The texture was more of a heavy cream and left my skin feeling soft, firm and youthful. I'm not sure how long-term these results are, but it's a great treatment to give your skin a "tune up!".
Up next is the Cynthia Rowley Beauty Brightening Illuminator. Best word to describe this sample? Luminous. I was a little thrown off by the texture of this illuminator. Instead of the expected cream, it was actually a little runny (making it challenging to just get a little out of the sample tube!). I found this illuminator perfect for early mornings. It gives me just the glow I need at that hour in the morning to distract from the large, dark circles under my eyes and it's super versatile. I use it for my inner eyes, cheek bones, brow bones, etc. It's lightweight, subtle and goes on smooth, the perfect addition to my summer makeup routine.
Lastly, I'm wrapping up with my favorite sample from this month's box, Temple Spa Peace Be Still Calming Face & Body Balm. This lotion makes me feel like I just walked into a fabulous spa! The scent of lemon and lavender is so dreamy and soothing. It has an immediate calming effect that lingers, making it great to use right before bed. The texture of the lotion is a bit thicker than I expected, but once it absorbs into the skin, it leaves it feeling softer and smoother than ever! I will definitely be investing my reward points into a full size bottle of this, it's a must have! (my husband even agrees!)
---
And that's a wrap for this month's beauty samples! Have you heard of any of these brands or tried any of these products before? Tell me about them in the comments below!
Craving more beauty finds? Check out last month's post, March Birchbox Review, or start getting your own birchbox delivered right to your door!