Birchbox was the first subscription service I signed up for and quite possibly my favorite! I just love receiving this adorable little box every month and seeing what's inside. Some months are better than others, but I tend to get a ton of use out of the products. And even if it's not my favorite product, it's usually still great for all my travels! Check out my March Birchbox Review below and share what you think in the comments!
If you aren't familiar with birchbox, it's a $10/month subscription to monthly deliveries of beauty and skincare samples. And don't forget… they offer boxes for both men and women! It's truly a mini treat to yourself once a month and it's a fabulous, inexpensive way to get introduced to new brands and products. As an added bonus, birchbox has an amazing rewards program. You get points for each monthly sample you review and each dollar you spend in their shop. 100 points= $10, and those points add up fast! 
Below is my review of my March Birchbox- the creativity birchbox: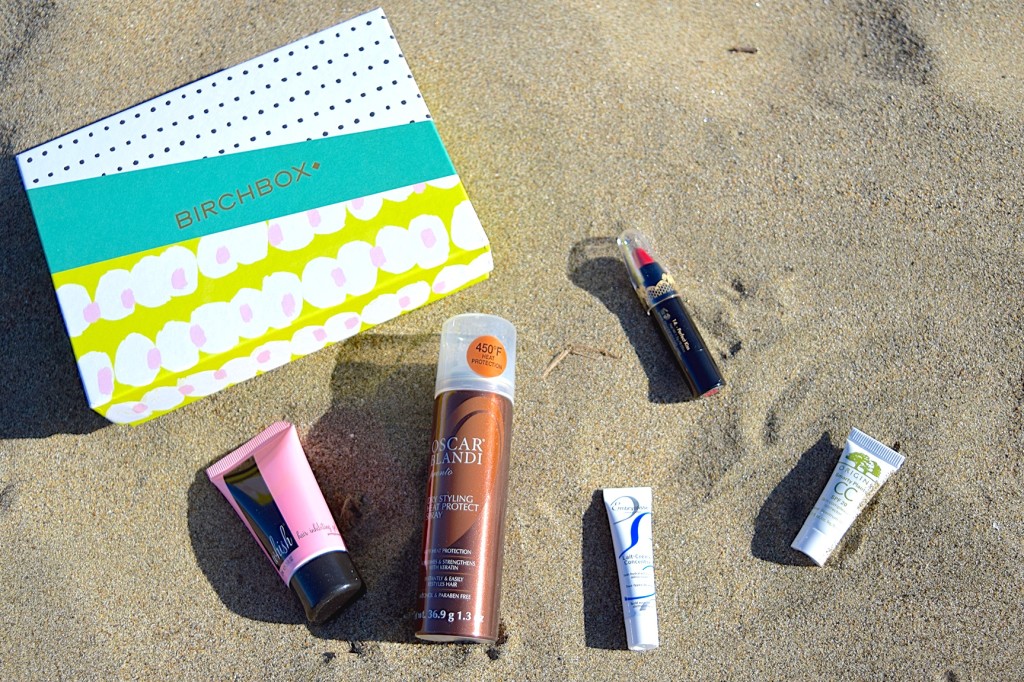 Whish Shave Savour Hair Inhibiting Gel
Embryolisse Lait-Crème Concentré (24-Hour Miracle Cream)
Mirenesse Glossy Kiss
ORIGINS Smarty Plants™ CC SPF 20 Skin Complexion Corrector
Oscar Blandi Pronto Dry Heat Protect Spray
---
Have all my dreams come true? Is there really a product out there that can slow my hair growth between shaves? I received the Whish Shave Savour Hair Inhibiting Gel in my box this month and assumed it was like the other Whish shave gels I have received in the past, but I was wrong! This is an after shave gel that is supposed to not only hydrate your skin but slow hair growth. Like I mentioned before, it's a gel (not a lotion) so I expected it to be a little sticky. To my surprise, it actually went on smooth and absorbed super quick. They also offer a ton of scents, I received pomegranate, which was simply yummy! I'm not sure if I've noticed a difference in my hair growth since I started using it, but it's worth a try right?
Next to be reviewed is the Embryolisse Lait-Crème Concentré (24-Hour Miracle Cream). Talk about versatility, this cream does it all! I used it both as a makeup remover and a makeup primer- I think it worked great as both! It also left my skin feeling amazing! I was a little disappointed with the tiny sample and the price of the full size bottle. It will be great for traveling, but a little expensive in my opinion for a makeup remover.
Time for a fun one, Mirenesse Glossy Kiss! I love this lip gloss! I goes on so smooth and leaves my lips feeling super soft! It's so creamy and a great cross between lipstick and gloss. It also has an amazing gold shimmer to it that makes my lips look plump and full. I love the texture of this gloss and will definitely will be investing in other colors of this Mirenesse Glossy Kiss!
Up next is the ORIGINS Smarty Plants™ CC SPF 20 Skin Complexion Corrector. I've gotten quite a few CC creams in my past birchbox deliveries. This one has a great, lightweight texture to it and it just glides on the face. It has a very faint tint to the cream and leaves the skin looking a little shiny and almost pearlescent. I followed this CC cream with some powder to tone down the shine, but besides that it's a great cream. The only other drawback I found was the smell. I found the earthy scent to be a little off-putting for a face product.
Lastly, I'm wrapping up this month's reviews with the Oscar Blandi Pronto Dry Heat Protect Spray. I have to admit something guys, I am a sucker for heat protecting sprays. If you have long hair I think it's important to protect it as much as possible. I have a protecting spray that I currently use (and love), but I found this one to work great as well! After straightening my hair, it left my hair looking shiny and smooth and smells better than a lot of the other sprays out there! I would recommend this to anyone in the market for a heat protecting spray.
---
And that's a wrap for this month's beauty samples! Have you heard of any of these brands or tried any of these products before? Tell me about them in the comments below!
Maybe you're just craving more beauty buys? Check out last month's post, February Birchbox | 2015 or start getting your own birchbox delivered right to your door!