Well, it's finally here. Happy first day of spring!
Lately I've been inspired by super feminine "spring dressy" looks. I've been dying to get dolled up for really any reason ever since Lauren Conrad's launch of her Cinderella Collection. Adding to my obsession, I recently came across this J. Crew Laser-cut Midi Skirt and cannot stop thinking about it! At $128, it's more expensive than I normally spend on such an impractical purchase, but I couldn't resist including it in today's Garden Party collection. It doesn't hurt to look right?
With Easter right around the corner, retailers are starting to shift their assortment to spring apparel, so it's about time our closets start following suite! This spring is all about pretty pastels, texture and florals, and my favorite items seem to be all about texture. Check out the embellished clutches, textured skirts and even cut-out shoes below! There are tons of tiny details built into these pieces that make them feel perfectly delicate, ultra feminine and spring forward. How could you possibly resist them?
Whether you are headed to a garden party, celebrating Easter with your family or just dressing up in front of your mirror at home, the collection below is too good to pass up. Spring forward with spring dressy!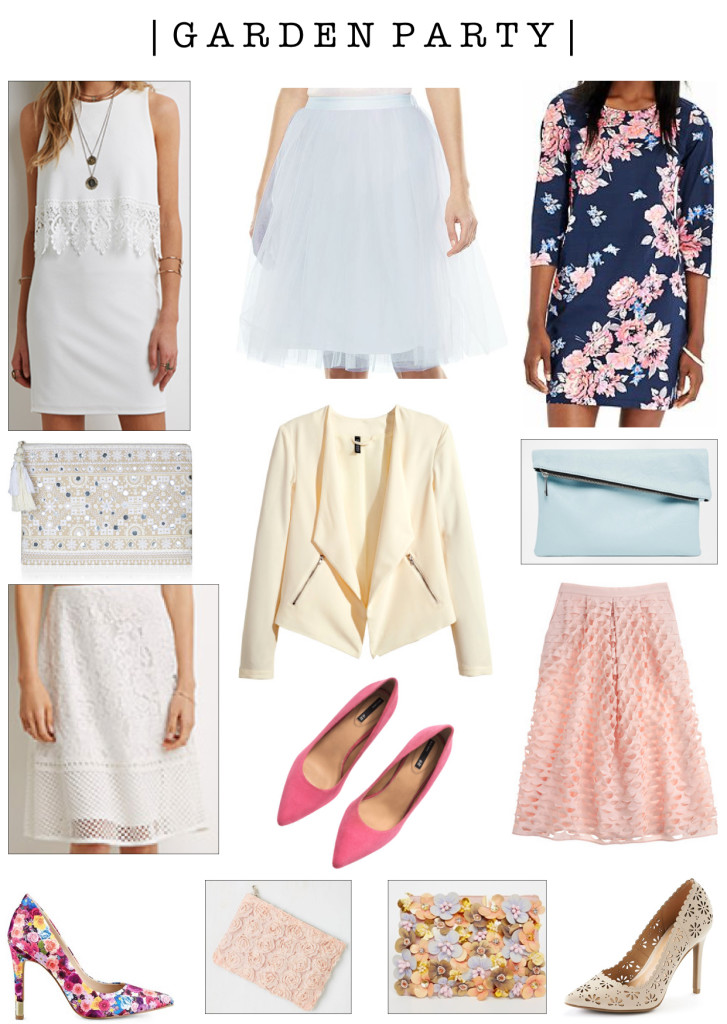 shop spring dressy:
Forever 21 Crochet Trim Dress ($25) / LC by Lauren Conrad Tulle Skirt ($48) / Old Navy Floral Dress ($25) / Accessorize White Embellished Clutch ($44) / H&M Crepe Jacket ($25) / ASOS Blue Slanted Clutch ($27) / Forever 21 White Mesh Paneled Skirt ($20) / H&M Pink Suede Pumps ($60) / J. Crew Laser-cut Midi Skirt ($128) / Guess Babbitta Floral Pumps ($99) / ModCloth Rosette Clutch ($40) / ASOS 3D Floral Clutch ($63) / LC by Lauren Conrad Floral Cut-Out Heels ($55)